Ski region Kaprun Kitzsteinhorn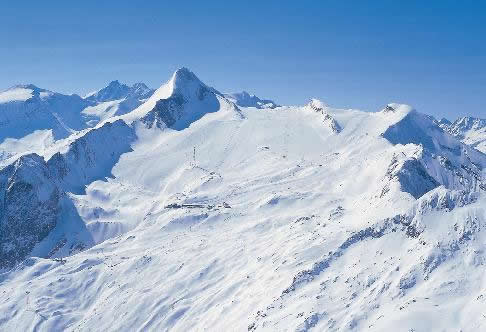 In Kaprun you can enjoy perfect powder snow and glistening corn snow overhangs on the Kitzsteinhorn glacier as early as autumn and then right through until springtime - and between the seasons you can enjoy a brilliant white winter with absolute natural snow guarantee.

As part of the Hohe Tauern mountain region, the only glacier ski area of Salzburg is amazing with it's unique diversity : the pistes are more than varied and offer everything from great steep descents to pleasurable wide glacier slopes everything the winter sports fan could wish for. Top class winter sport and that real outdoor feeling is taken for granted here.

With the glacier transport from Kaprun, the summit of the Kitzsteinhorn can be reached from the valley starting point at 911 m height up to the height of 3,029 m by cable car which actually runs over the highest cable car support pillar in the world. This is 113,6 m high and has a support base diameter of 2.2 m.

On the top station roof at 3,035 m there is a viewing platform.


Maiskogel the family mountain
On the Maiskogel, your family skiing mountain in Kaprun, 68 hectares of snow covered and best prepared pistes await you. Heavenly ski enjoyment for all, whether a beginner or an expert !

With the panorama lift Schauffelberg, a 4-seater chair lift you comfortably arrive at the centre of our ski area to the Angerlift and the Almbahn Kaprun, one of the most comfortable 6-seater lifts.

To enjoy pure ski pleasure in any weather, both lifts have weather protection front pull over covers. For families with children, the Maiskogel cable car is particularly practical.

Using the cable car, you arrive at the ski area in just 5 minutes. From there you can use the new family slope descent to the valley or you can carry on to other lift systems.


Ski area Zell am See Schmittenhöhe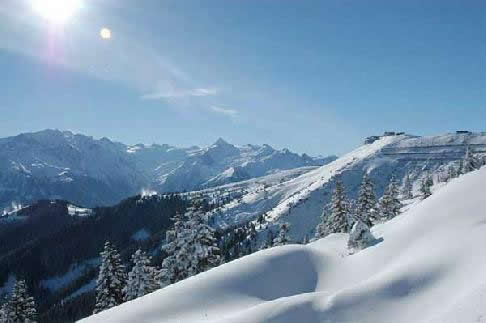 The ski area of Schmittenhöhe at 2,000 m is the home mountain of Zell am See, the summit offers a fantastic view towards over 30 peaks over 3,000 m and over the Zell lake, the valley basin and the whole Saalach valley. Your lift pass is also valid here and by using the free of charge ski bus you can be at the Areitbahn start point in Zell am See in just a few minutes.
Nagelköpfel action mountain

The Nagelköpfel action mountain is situated in nearby Piesendorf and apart from normal piste skiing it offers sky-gliding, snow-rocketing and for snowboarders a fun-cross route and an illuminated sledge and skeleton run.

Illuminated sledge run with lift transport
By drag-lift you reach the start of the 1.5 km long illuminated sledge run with steep curves and net-safety throughout. Worldwide unique fun sledging with brake system!

Snow tubing with lift transport
Snow tubing makes for winter fun for all ages. In the evening by floodlight this means a FunFactor approaching the 4,000 m limit.

World novelty ! Ski Gliding under the stars !
What Icarus then dreamed about we have made a reality! At high speed we swing down to the valley the deal is that you are min. 140 cm tall and you have quite a lot of courage.

Zipflbob
For many years this was a minibob for children. Today this is a cult sport piece of equipment. We offer a Zipflbob route with transfer to the start.


Cross country skiing in Pinzgau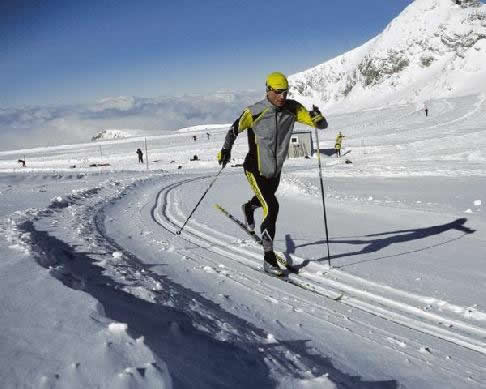 Cross country starting in Kaprun on ever new routes : for example, the 265 km long Pinzgau Trail from Krimml to Zell am See. This route was especially commended by the ADAC in the stretch Wald -Bramberg.


Kaprun, Kitzsteinhorn
Cross country skiers find exceptional conditions on the glacier. The many advantages of height training can be used (almost) all year round on the Kitzsteinhorn.
On the glacier plateau at a height of 2,900 m is the up to 3 km long Höhenloipe. This is the meeting point for all Nordic fans on the Kitzsteinhorn. All together in Salzburger Land there are over 2,200 km of cross country routes for classical cross country and for skaters!
Cross country skiing at night
Directly in Kaprun you will find the start of the 2 km floodlit route. Cross country skiing also at night!
Cross country paradise Zell am See
With over 200 km of cross country routes, Zell am See and the neighbouring villages in the valley are a paradise for cross country skiers. The wide valley opens all routes and offers a great view towards the 3,000 m summits of Kaprun and beyond.
Snow parks on the Kitzsteinhorn
On the Kitzsteinhorn you will find 3 top class snow parks at a snow assured height of between 2,500 m and 2,900 m a real Mecca for snowboarders and free-skiers with over 70 obstacles.

Here there is always something on offer if you are not hanging upside down in the air, you can take part in various events and contests.

more info


Ski school snowboarding

You're still a little wobbly on the board or you would like to improve our style? You've just bought a new carving ski and you would like to learn how to make a good impression when cruising in to Apres-ski?

The professional ski schools in Kaprun offer ski and snowboard courses together with children's courses and looking after children.
VOLVO Ice Camp
Snow covered floor, walls completely made of ice and drinks as cool as the Kitzsteinhorn itself : in the �Volvo Ice Camp� igloos on the glacier plateau of Kaprun�s own mountain there can be no talk of room temperature - The interior of the ten white living quarters at a height of 2,500 m consists completely of the favourite component of all winter sports enthusiasts. The only exception is the new estate car model of the Swedish car manufacturer.

As in the previous year, in 2009 the Ice Camp invites you to an ice-cold stay in the igloo world of over 10,000 sq. m. With a remarkable 12 metre diameter, the main igloo connects the the many other snow houses of the camp. Inside are a bar and lounge and outside an impressive climbing tower � all made from over 4,000 cubic metres of snow and 40 tons of ice!

For those for whom warm thoughts are not enough in such biting cold circumstances, then they can partake of cheese fondue or hot tea. With new strength you can go for a walk under the stars, enjoy the music in the camp or relax in one of the many loungers. Why not just stay overnight? Up until April the adventurous minded can sleep in a cosy, romantic igloo with reindeer skins and sheepskins.
Starts as of 147 Euro !

more info


Tobogganing Fun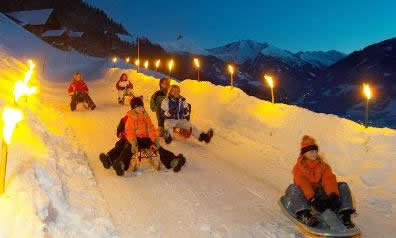 Tobogganing is pure winter fun for the whole family. What used to be a 'kids activity' now has turned into a trend for the whole family.

There are tobogganing tracks on small slopes suitable for kids and long adrenalin runs for adults. These tracks are well lit with floodlights making your tobogganing experience romantic and safe.

Have a nice romantic candlelight dinner at a traditional austrian mountain hut followed by an exiting tobogganing night run.

More info:
Jausenstation Guggenbichl
Kohlschnait

White Start Kitzsteinhorn
White Start Kitzsteinhorn 6.-7.11.2010

This special weekend heralds in the new season with fun on the slopes and fresh powder snow: the traditional "White Start", kicking off a totally white season. Whoever joins us can test skis from companies such as Atomic and Blizzard and gather tips from professionals to improve their skiing even more - all free of charge of course. The glacier awaits you!

Daily programme for free:
- Skitest of the models from 2011
- Helmetcam test
- Massage DriveIn directly on the slope
- Relax Programme with Massages (in Alpincenter)

Musicprogramme on Saturday, 6.11.2010:
Afternoon: Après Ski with DJ Ozzy on the Kitzsteinhorn
Evening: Big Ö3 Disco in the village of Kaprun